A visitor at Harrah's Joliet casino refused to leave the Illinois gaming property on Saturday afternoon and then got into a noisy and violent confrontation with a guard and local officers, authorities said.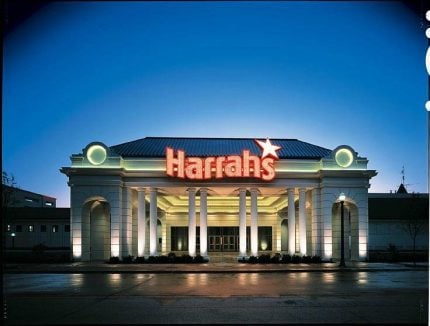 Dennis Demsco, 45, of Lockport, Ill., was repeatedly told to leave the venue. He refused and allegedly kicked the security guard in the leg.
When police tried to apprehend him, Demsco shouted what were described as "racial slurs" at the officers, the Herald-News, a Joliet-based newspaper, reported. Demsco continued to be uncooperative with officers as he was processed at Joliet Police Department (JPD) headquarters. He later was booked at the Will County jail on charges of aggravated battery, obstructing justice, and criminal trespass.
He remained in custody as of early this week. His bail was set at $10,500.
JPD Sgt. Dwayne English wasn't sure why security guards initially asked Demsco to leave, according to the Herald-News.
Woman Allegedly Pulled Knife After Casino Visit
Two women were charged last week following a fight in a car parked outside of Iowa's Q Casino.
Sherida Brown, 34, and Maranda Turner, 36, were both charged with domestic assault with injury for the Wednesday evening confrontation at the Dubuque gaming property.
Turner allegedly held a knife up to Brown's throat. Brown allegedly fired pepper spray at Turner.
The duo initially got into a disagreement while in the casino. When they walked back to the car they struggled over car keys, Iowa radio station KIYX reported. Neither was seriously injured during the fight.
While police officers were at the car, they saw unspecified drug paraphernalia, and Brown also was charged with possession of drug paraphernalia.
It's unclear why the two women got into the initial argument.
Canadian Court Cases for Alleged Casino Cheaters
Five Canadian suspects are facing court proceedings after they allegedly took part in a cheating scheme last October at Toronto's Casino Woodbine.
Initial reports said a dealer at a gaming table was colluding with players at the gaming property. It wasn't revealed how much money was involved in the plot.
Officers from the Ontario Provincial Police (OPP) investigated the incident, which led to the five arrests earlier this month.
Arthur Segovia, 52, of Etobicoke, was charged with criminal breach of trust, cheating at play, theft over $5,000, and fraud over $5,000, according to the Toronto Sun newspaper. Khalil Evans, 29, Donovan Smyth-Todd, 30, Daniel Hatton, 25, each of Toronto, and Andrew Gayle-Bourne, 33, of Oakville, were charged with cheating at play, theft over $5,000, and fraud over $5,000.
It's unclear if any of the five suspects was the dealer involved in the scheme.
Each suspect was released from police custody and their cases were turned over to prosecutors at Toronto's Ontario Court of Justice.
The post Casino Crime Roundup: Casino Patron Reportedly Kicked Guard, Shouted Racial Slurs appeared first on Casino.org.