Churchill Downs Inc. in February 2022 agreed to purchase most of Peninsula Pacific Entertainment's (P2E) casinos and resort assets. The nearly $2.5 billion acquisition also delivered the Kentucky-based casino and horse racetrack group the potential opportunity to construct a new from-the-ground-up casino resort in the Virginia capital of Richmond.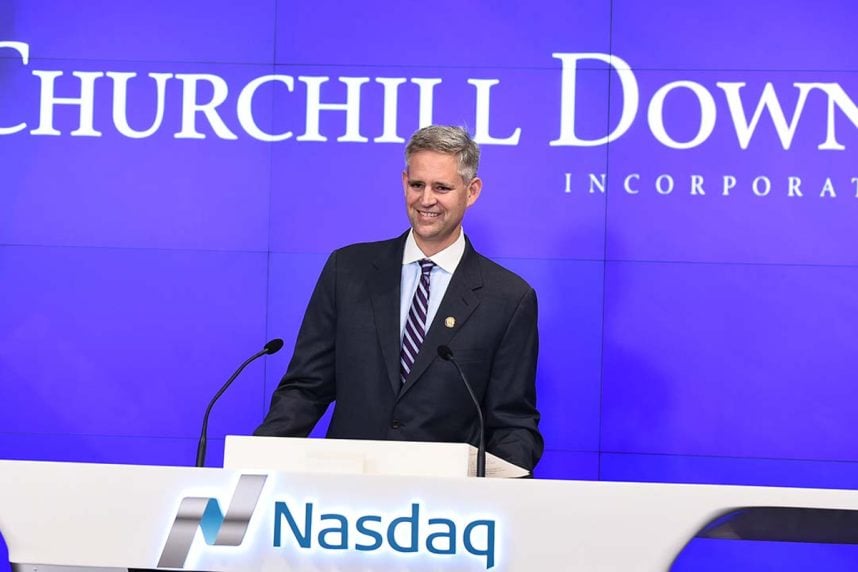 During Churchill's first-quarter call this morning, CEO Bill Carstanjen revealed that the company's earnings easily outpaced analyst expectations. Earnings per share were $1.96, beating the consensus projection by 21 cents.
The financial disclosure, paired with Churchill planning to split its stock next month, sent shares skyrocketing on Thursday. Churchill shares were up about 14% — or $35 per share — to $287 in afternoon trading.
Companies often split their stock in order to make it more approachable to a broader sector of individual investors. That is elevating interest in the company that's best known for owning its storied namesake racetrack, Churchill Downs, home of next weekend's Kentucky Derby.
Richmond Project
P2E when it was acquired by Churchill Downs was partnered with Black-focused media conglomerate Urban One on a more than a half of a billion dollar casino project in Virginia's capital city. Richmond was one of five cities in the commonwealth that qualified through 2020 legislation to mull a gaming development in order to provide an economic spark.
But Richmonders during the 2021 election narrowly rejected the Urban One and P2E presentation, which beat out several other casino pitches through a competitive bidding process conducted by the Richmond City Council's Casino Evaluation Panel. The Urban One/P2E project was called ONE Casino + Resort and would have been built adjacent to the Philip Morris tobacco plant south of the city along Interstate 95.
Local leaders hope to re-ask voters about a casino through another referendum this fall. The thinking among the city government officials is that a more concrete message about the economic benefits such a resort would bring to the capital metro would result in a different outcome.
Speaking with analysts and investors, Carstanjen said it's the company's hope that the casino question goes before voters this November. Legislative efforts from state lawmakers who don't want a casino in Richmond or are trying to relocate the city's gaming license south to nearby Petersburg were unsuccessful during the state's 2023 legislative session.
We are working through the required approvals to conduct a referendum this fall to obtain the authorization necessary to proceed with the construction of this project, which would include a casino, hotel, and events center," Carstanjen said.
The Churchill boss added that "everything is going well" in relation to the referendum. The goal is to hold a successful casino referendum this fall and begin construction next year.
Divisive Topic
Richmond's 2021 gaming referendum was defeated 51-49%, with the city's more affluent neighborhoods north of the James River more opposed to the casino question. Some residents also questioned why Urban One, a media company with no experience in the gaming or hospitality industries, managed to win out over more recognizable gaming operators such as Bally's, The Cordish Companies, and Golden Nugget.
Urban One sought to calm such concerns by bringing on P2E, a company with a long track record in gaming. But despite its operational history in Louisiana and Iowa, P2E didn't have much brand recognition in Virginia.
Churchill Downs is a different story, as the company is a familiar name thanks to its Kentucky Derby roots. Will Richmonders be more inclined to support ONE Casino + Resort now that Churchill is involved? A referendum in November could provide that answer.
The post Churchill Downs Committed to Richmond Opportunity, Targeting 2023 Referendum appeared first on Casino.org.