Last October, Texas' largest and most popular poker club got raided by police in the middle of a tournament. About 20 county sheriff's officers arrested dozens of employees of the Watauga Social Lounge, fined 49 players $360 each for the offense of "gambling — cards, dice, balls," and seized more than $200K.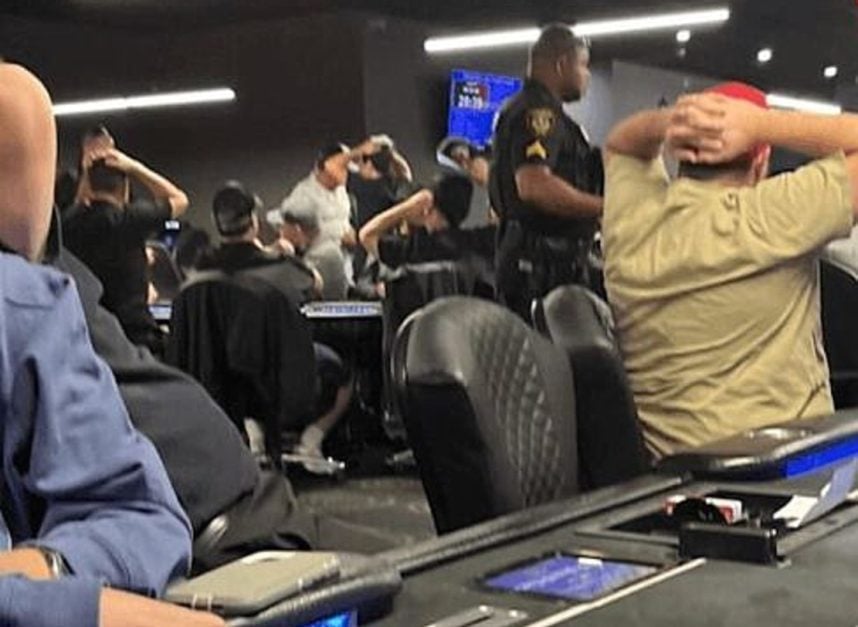 According to PokerNews, three of the fined accepted a plea deal offered them in December. And that's unfortunate for them, because the charges and fines against the others were dismissed over the past few weeks. According to the poker website, a lawyer associated with the case claimed that justice was only served because so many of the arrested players demanded jury trials.
Players Full-Tilting
Darryl Gresham, one of the fined players, wrote on Facebook: "First part of the injustice has now been dropped for all 46 of 49 who wanted their/our day in court. Now let's go get our 205k the TCSO (Tarrant County Sheriff's Office) robbed from us at gunpoint … This isn't over til you return our money and justice is served!!!!"
Another fined player, Steve Nichols, posted on Facebook: "A little bittersweet as I really wanted to take it to trial but it's vindicating to see the Tarrant County District Attorney's office cower in the face of folks willing to stand up to them." He added: "I know we aren't getting our money back (which is the most unfortunate part of this whole thing) but hopefully, this pushes the needle forward with lawmakers to make a stand and finally fully legalize poker in the state of Texas."
PokerNews had no information about the criminal cases against the employees.
Texas Hold 'Em Overnight
Gambling is illegal in the state of Texas. However, a loophole exists in Texas Penal Code 47.04, which permits poker clubs to operate if the games don't bestow "economic benefit other than personal winnings."
This makes it illegal for poker clubs to take rakes out of cash game pots. So poker "social clubs" operate throughout Texas, earning their income by charging membership and seat fees instead of rake.
According to PokerNews, "most law enforcement seems to accept the rooms without much resistance. But raids in certain jurisdictions have occurred." Despite the tax revenue they generate for the state, some in power want them all gone.
The search warrant, signed by Judge George Gallagher, supposedly empowered Tarrant County authorities to seize "currency, gambling proceeds, financial instruments, and or other items of value … relating to obtaining, transferring, secreting or spending large sums of money made from engaging in specified unlawful activities" under Penal Code 47.
The raid interrupted Day 2 of the social club's Fall Classic Poker $420 buy-in, $100K GTD Main Event tournament, which attracted 369 players and generated a $132,840 prize pool.
The Watauga Social Lounge opened in January, with a grand opening ceremony attended by Watauga mayor Arthur L. Miner.
The post DA Drops Charges Stemming from Raid on Texas' Largest Poker Club appeared first on Casino.org.