Former President Donald Trump is seeking the nation's highest office for a third consecutive presidential election cycle.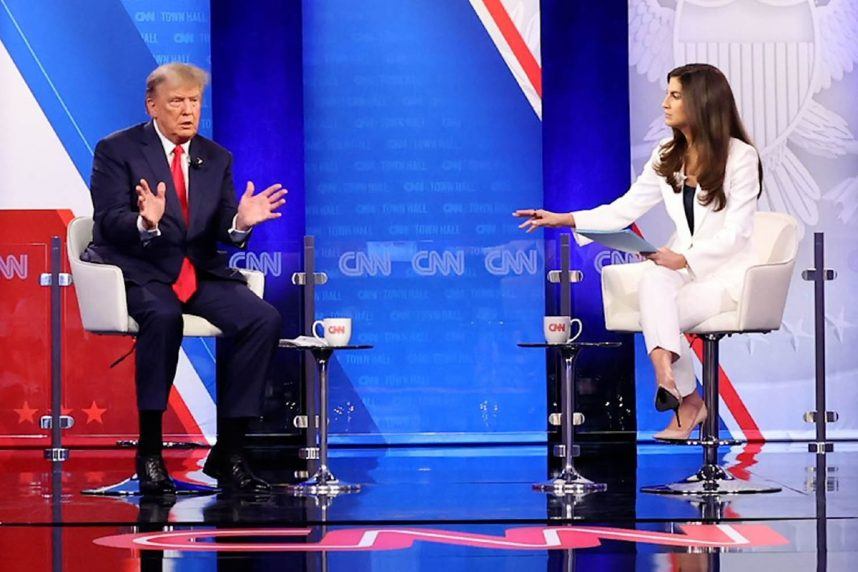 The 76-year-old Trump is seeing his 2024 odds slightly improve following his town hall appearance on CNN this past Wednesday with host Kaitlan Collins that turned into a heated and lively conversation. The controversial debate, panned by Trump critics and celebrated by his supporters for the network giving primetime exposure to the former president who is currently the subject of a state lawsuit, has resulted in the Republican front-runner seeing his odds rally.
On the PredictIt market, asking, "Who will win the 2024 US presidential election?" Trump's shares have climbed two cents since the CNN spectacle that involved the former commander-in-chief telling Collins she's "a nasty person."
PredictIt bettors currently give Trump a 35% chance of winning the 2024 presidential election. Those shares, trading at 35 cents, are up two cents since his showdown with Collins. Meanwhile, President Joe Biden's stock lost about four cents, but the president remains the 2024 betting favorite. His shares are at 43 cents.
Trump also lengthened his lead on securing the GOP's presidential ticket. Trump's shares in the PredictIt market asking, "Who will win the 2024 Republican presidential nomination?" are up to 57 cents. Florida Gov Ron DeSantis is a distant second at 30 cents.
Trump Needs New Supporters
The Republican Party appears split with less than 500 days remaining before US voters begin casting their ballots. Many in the GOP want to move on from Trump, and DeSantis is seen as the billionaire's successor to head up the Republican movement.
Trump is refusing to concede to the next generation, and he didn't hold back during the CNN town hall, lambasting DeSantis and referring to the governor as "DeSanctimonious."
During the town hall, Trump repeatedly stressed his ongoing belief that the 2020 election was comprised, claims Collins repeatedly rebuked.
All of these fake investigations of me are about election interference. They think, because I'm leading Biden by 11 points, seven points, nine points, and I'm leading DeSanctimonious by a lot — 40 points or 45 points. I think he ought to just relax and take it easy and think about the future, because, right now, his future is not looking so good," Trump said of his two chief opponents standing in his way to another White House stint.
Collins pressed Trump to pick a side in the Ukraine-Russia war, something Trump refused to do. Instead, the president said he simply wants "everybody to stop dying." Trump also refused to take a concrete position on abortion, another pressing 2024 topic.
"I'm looking at a solution that's going to work. It's a very complex issue," Trump deflected regarding abortion.
Trump Reaches New Demo
Trump's CNN appearance allowed him to connect with television viewers who might not typically tune in to the cable news outlet he most frequents, Fox News. And that's why many CNN faithful panned the network's invite to the 45th president.
Several Twitter hashtags trended late Wednesday, including "BoycottCNN," "DoneWithCNN," and "ByeCNN." CNN Chief Executive Officer Chris Licht responded to the criticism.
"I am aware that there have been people with opinions and backlash, and that is absolutely expected," Licht replied. "And I'll say this as clearly as I possibly can: you do not have to like the former president's answers, but you can't say we didn't get them."
"America was served very well by what we did last night. People woke up and they know what the stakes are in this election in a way they didn't the day before," Licht declared.
The post Donald Trump's 2024 Odds Shorten Following Contentious CNN Town Hall appeared first on Casino.org.