Las Vegas' Downtown Grand Hotel & Casino was recently sued by a government agency for alleged employment discrimination against workers with disabilities or disorders.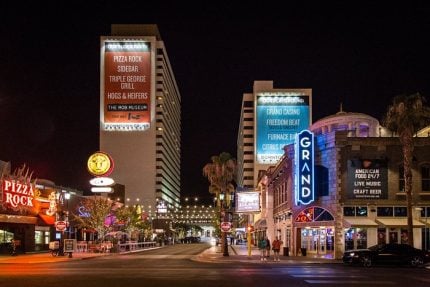 The Equal Employment Opportunity Commission (EEOC) filed the court action in Nevada District Court last month after the gaming property, for at least five years, failed to provide the employees with what regulations call "reasonable accommodations."
Colon Cancer Victim Fired
In one instance, the casino allegedly fired a host who was diagnosed with Stage IV colon cancer. He wore a medically required colostomy bag. The casino claimed the bag threatened other employees' health, according to a report from Law.com, a legal news site.
Also, the casino refused to let a dealer with back pain and sciatica work at a craps table instead of a blackjack table, Law.com added.
Besides the fired employee, the federal lawsuit claims casino management acted in a way that led to "over-scrutiny [and] threats of discipline." Casino managers also allegedly retaliated against workers who exercised their employment rights, according to the EEOC.
Workers Chose to Quit
Some workers believed they had no option but to quit their jobs because of actions by the gaming property.
Besides cancer, the workers were suffering from disorders such as levoscoliosis (which leads to a curved spine) and sciatica (a condition that leads to pain, weakness, numbness, or tingling in the leg.)
The EEOC says businesses must provide "reasonable accommodation" for disabled workers unless it causes the employer "an undue hardship." Safeguards for disabled workers are included in the federal Americans with Disabilities Act (ADA).
The EEOC is seeking monetary damages for the victims, including compensatory and punitive damages. The EEOC is also requesting an injunction be issued against the company.
The EEOC filed the court case in Las Vegas federal court only after it failed to reach a pre-litigation settlement.
Actions are 'Shocking'
When asked to comment on the EEOC lawsuit, Robert Jarvis, a law professor at Florida's Nova Southeastern University's Shepard College of Law, told Casino.org that "It is shocking that in 2023, 33 years after the passage of the Americans with Disabilities Act (ADA), employers are still not abiding by the law."
There simply is no excuse for any employer to violate the ADA. Given this fact, ADA violations today almost always are intentional. It certainly sounds like Downtown Grand Hotel and Casino's alleged violations were intentional."
He called it "even more shocking" given that America's population is aging rapidly, meaning that more workers have disabilities and therefore are covered by the ADA.
"Indeed, the Centers for Disease Control and Prevention estimates that one in four American adults — or 61 million people — have some sort of disability," Jarvis said.
Casinos, their human resources departments, and their lawyers should be familiar with ADA requirements, Jarvis said, adding that despite this, many employers remain biased against the disabled.
Casino.org reached out to Downtown Grand Hotel & Casino for a response to the lawsuit. No statement was immediately provided.
The post Downtown Grand Hotel & Casino Sued for Alleged Employment Discrimination appeared first on Casino.org.