A former casino dealer who seven years ago beat a couple to death will be spending 56 years or more behind bars. He repeatedly struck them with a claw hammer and possibly other weapons.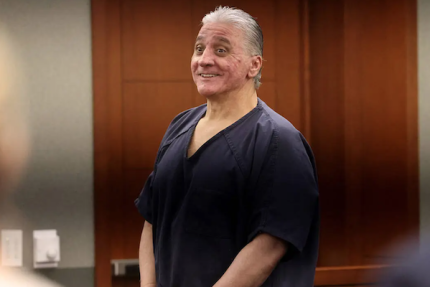 Frank Interlicchia Jr., 57, of Las Vegas, was sentenced on Wednesday to life in prison for two counts of murder with a deadly weapon and a single count of home invasion.
District Judge Michelle Leavitt told Interlicchia he can't expect to be considered for parole until he serves 56 years of the sentence — if and when he reaches the age of 113.
On September 20, 2016, the victims, Kelly Naples, 64, and Robin Naples, 44, were killed in their apartment near Paradise Road and Tropicana Avenue.
They suffered what were described as "massive wounds to their faces and heads." Near the two bodies were found a bloody claw hammer and wrench, authorities said.
Prosecutors have claimed Interlicchia used "a ratchet and/or a cross pein hammer and/or a claw hammer" when beating the pair. Some witnesses said he had been carrying a baseball bat, too.
Bloody Crime Scene
When Las Vegas Metropolitan Police Department (LVMPD) officers arrived at the residence, they saw Interlicchia covered in blood. He was standing over Robin Naples.
Interlicchia spoke to officers and claimed that "some guys came through the door and he had to 'bash them,'" the Las Vegas Sun reported in 2016.
Interlicchia also revealed he was a life-long Las Vegas resident who played high school football and formerly worked as a table game dealer at an unidentified casino.
Interlicchia was arrested and was put on trial earlier this year. He was convicted by a jury in February.
When he testified in his own defense, Interlicchia "thumbed his nose at the victims, at their families," prosecutors said.
He could have faced the death penalty, but in January prosecutors opted to seek life in prison.
No Remorse
"I think that what's most telling about the defendant and this case, is that without drugs, he was incapable of having any remorse for the crimes that he did," Chief Deputy District Attorney Michelle Fleck said.
It was revealed by Interlicchia's attorney, David Schieck, who practices criminal law in Las Vegas, that his client had taken heroin before the killings. Police said they saw heroin-track marks on Interlicchia's body. Interlicchia told officers he regularly used heroin and methamphetamine (meth), according to the Sun.
This was a situation involving no pre-planning, no premeditation," Schieck was quoted by the Las Vegas Review Journal. "This was a situation that occurred quickly and was fueled by drug use by everybody involved."
Shortly before attacking the couple, Interlicchia forced his way into another apartment at the complex. He kicked in a door and lay down on a bed, the Sun reported.
He was ordered to leave by the resident. She was his former girlfriend, according to initial news reports from Las Vegas TV station KTNV.
Interlicchia then headed to the Naples's apartment. The victims had let Interlicchia move in with them after he was forced to leave another apartment in the complex.
They lived in a first-floor apartment at Palo Verde Villas at 5070 Palo Verde Road. It's about a half mile from the Harry Reid International Airport.
The post Las Vegas Brutal Murderer To Spend Life In Prison appeared first on Casino.org.