A Las Vegas man was behind bars on Thursday awaiting court proceedings on charges of attempted murder and battery with the use of a deadly weapon. He allegedly stabbed an RTC bus supervisor last month after the driver asked him to not yell out an offensive term.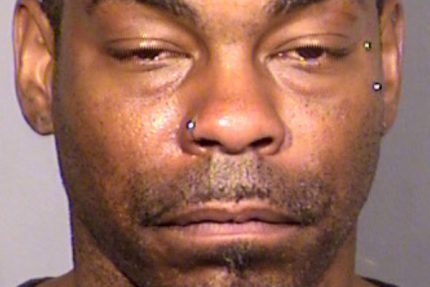 Xavier Whatley, 40, was waiting to board a public bus on April 24 at the Bonneville Transit Center, located near Casino Center Boulevard and Garces Street.
Initially, he repeatedly shouted the offensive term for a woman's genitals, while several people waited for the bus, authorities said. A supervisor, later identified in news reports as George Duke, told him to stop saying the word because it's "rude and disrespectful," Las Vegas TV station KTNV reported.
Whatley then pulled out a butcher knife and allegedly stabbed the supervisor once in the upper-left chest with the 10-inch blade.
Duke suffered critical injuries and was transported to University Medical Center. He's continuing to recover from his wound, according to Las Vegas TV station KLAS.
Duke was identified as a supervisor with Keolis, a company that provides RTC bus service, according to local news reports. He approached the waiting passengers to let them know a bus was on its way.
Las Vegas Metropolitan Police Department (LVMPD) officers were notified about the stabbing by one of the awaiting passengers. A short time later, they followed a trail of blood that led them to Whatley who was hiding in some bushes on Third Street. The knife was nearby.
Officers noticed he had a cut on his right hand which they believe took place when he stabbed Duke.
Whatley was taken to University Medical Center for treatment of the cut. He later was arrested and booked at the Clark County Detention Center. His bond was set at $50K. He's scheduled to appear in local court on May 11.
Four Wounded by Gunfire Near Airport
Four people suffered gunshot wounds early on Sunday on a street south of Harry Reid International Airport.
The victims were there to either watch or take part in stunt driving and racing at Bermuda and Pilot roads in what is commonly referred to as a "street takeover," according to the Las Vegas Metropolitan Police Department (LVMPD). Sometimes, the event is called a "sideshow," according to Las Vegas TV station KLAS.
The victims were transported to different hospitals. One of them suffered critical wounds, the Las Vegas Review-Journal reported.
More than one person fired the shots following a disagreement, police said.
$250K Theft at Downtown Grand Casino
Word came this week that Las Vegas's Downtown Grand Hotel & Casino was robbed of $250K.
Casino.org reached out to the casino for basic details, but none were provided. All that was revealed in local media is that the casino's director of surveillance, Tanya Peoples, provided information that led to a suspect's arrest.
The suspect was identified as Ngyuen Le, according to Las Vegas TV station KSNV.
Casino officials praised Peoples but didn't explain what happened or when the robbery took place, Las Vegas TV station KTNV reported.
Body Found Near Orleans Casino
A body was discovered next to a dumpster on Monday morning near the Las Vegas Strip, according to Las Vegas TV station KLAS.
It was on Tropicana Avenue near Decatur Boulevard, a block from the Orleans Hotel & Casino.
Las Vegas police were investigating the incident this week and an autopsy is likely to be performed. No other details have been released.
The post Las Vegas Crime Roundup: Suspect Facing Charges in Attempted Murder of RTC Bus Supervisor appeared first on Casino.org.