Looking for the best of Vegas' arts and entertainment this season? From Stevie Nicks to Liberace, check out some of my recent experiences for some memorable experiences.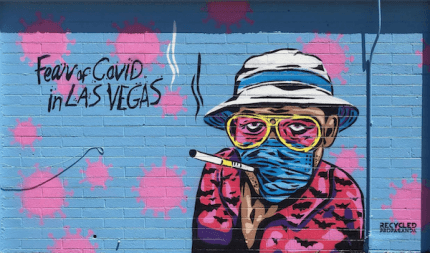 In a two-week period, at this strikingly designed arena with impressively crystalline sound, I saw packed-out concerts by Stevie Nicks and Depeche Mode (both former PR clients of mine).
Stevie Nicks is at the edge of 75—and was as impossibly vibrant and playful as ever. She noted from the stage that she never felt freer by performing without her trademark platform shoes due to a recent broken toe.
Nicks brought the hits, deep cuts and a refreshing political/social consciousness. "Ukraine's fighting for us," she said before launching into an especially moving version of her older song, "Soldier's Angel," written after visiting soldiers at the Walter Reed Hospital in 2005. Stevie also put a psychedelic spin on Buffalo Springfield's 1966 hit "For What It's Worth," explaining that Stephen Stills penned it about the 1966 Sunset Boulevard riots that protested an early curfew set by authorities.
Nicks said that she would have had a problem herself with that curfew: "I don't even go to bed until 8:00 AM." Bless Stevie Nicks' wild heart—and long may she run.
Depeche Mode @ the Arena 
Depeche Mode are still the world's biggest avant-garde rock band. Onstage, their elegantly dark songs with foreboding synths and intermittent spare guitar lines were shot through with non-stop charisma—and they raised the roof with their TV evangelist-bashing classic "Personal Jesus."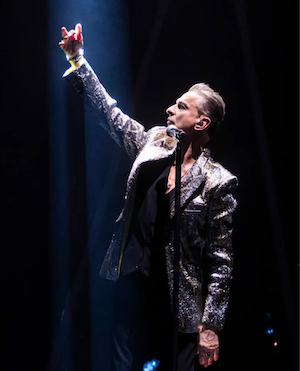 Now a duo, Dave Gahan and Martin Gore honored the recent death of bandmate Andrew Fletcher by displaying his image on multiple screens during their classic "World In My Eyes"; the song's key lyrics ("That's all there is/Nothing more than you can feel now") took on a haunting new resonance. From their new album, Memento Mori (which means "remember that you must die" in Latin), the band rolled out the death-centric single "Ghosts Again" ("We know that we'll be ghosts again").
Guessing Bruno Mars won't be covering this instant goth-rock anthem anytime soon at his residency at Dolby Live at Park MGM. Depeche Mode returns on December 1 to the arena.
KAOS at the Palms, Yachtley Crew
The soft-rock and R&B/jazz-tinged pop hits of the '70s and '80s, later branded as "yacht rock," continue to have their day in the sun, thanks to the popularity of a dedicated Sirius channel to this music. Artists like Captain & Tennille, Christopher Cross, Toto, and many more were never allowed entry into the cool-kids club in their heyday, but their AM radio hits are now saluted in setlists by yacht rock bands like Yachtley Crew.
Billing themselves as the "Titans of Soft Rock," they have a residency at KAOS at the Palms with new dates announced for June, October, November and December.
Their show is a feel-good, tongue-in-cheek celebration. The audience couldn't care less what the rock critic intelligentsia had to say about a lot of this music when it was first released—they danced and loudly sang along to the smooth, easy-going sounds which suggest seemingly simpler times.
At the show, the nautical wear-attired band announced they'd scored a label deal with Jimmy Buffet's indie label Mailboat Records.
They will release an album containing some original songs alongside their yacht rock covers. Personally, I never thought the music of unhip bands like Ambrosia and the Little River Band would rise again. It all goes to prove that you can't hold back good melodies.
Recycled Propaganda, the Arts District
Bravo to Recycled Propaganda, the nom de plume for acclaimed artist Izaac Zevalking also serves as the name of his gallery and store in The Arts District.  His compelling artwork and murals—the images used for apparel, patches, pins and stickers—capture the paranoia and outrage of existing in a corporate-controlled society.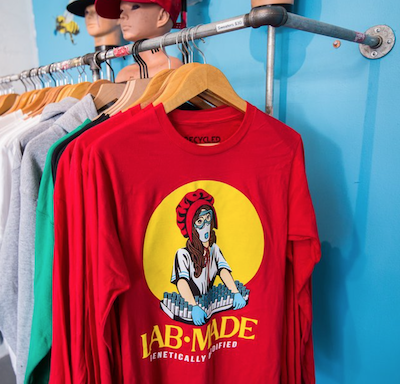 You can fight back against The Man by buying a "Tyranny of the Minority (Lobbying Light)" hoodie that uses Marlboro cigarette pack graphics or a "Start Unions" patch that visually calls out Starbucks. Also available for purchase is his artwork on canvas, wood and cardboard, with such titles as "Global Strike, "Question Everything," and my favorite, "Genetic Carnage."
Be sure to drop by this stimulating and purposeful gallery, which opened in 2018. It's also "utilized as a platform to expose other established and up-and-coming artists." Very cool to know that Recycled Propaganda is spreading the love around.
Hollywood Car Museum and Liberace Garage
It's fun getting lost in the Hollywood Cars Museum, a 25,000-square-foot pop culture wonderland filled with vehicles that have appeared in more than 100 films, TV shows and videos (there's another 5000 square feet in the back that's rentable for special events). Under the same roof is the Liberace Garage with the pianist/icon's insanely designed vehicles and other memorabilia reflecting his expensive and infectious bad taste.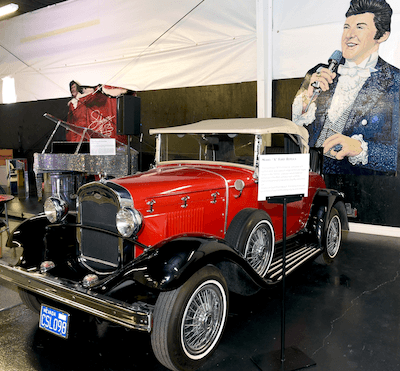 Note: the folks at the museum and garage have graciously extended a special discount ($5.00 off the usual $20 adult admission price) for Casino.org News/"Living Las Vegas" readers who inquire about the offer at the ticket counter.
There's so much to take in at the museum, like the "Starsky and Hutch" '70s Gran Torino stunt car; the supremely ridiculous 12-foot roller skate hot rod creation by fashion designer Marc Jacobs; the Batmobile from the TV show; and the Osprey Hovercraft from the James Bond film Die Another Day with Pierce Brosnan. Let's not forget the 40-foot pink hot tub convertible limo used on the old TV show "Lifestyles of the Rich and Famous."
This wonderfully exhaustive experience continues at the Liberace Garage, where you can fixate on his 1976 bicentennial Rolls-Royce, painted in stars and stripes with permission from the Rolls-Royce company. It was first incorporated onstage at his Las Vegas Hilton show, complete with (of course) fireworks exploding. Then there's Liberace's rhinestone-encrusted car seen on the cover of Duran Duran's 2000 album Pop Trash. I also relished standing under the oversized original fiberglass and gold epoxy-coated dressing room door created for his shows at NYC's Radio City Music Hall.
The man's legend continues with the renaming this past December of Karen Avenue as Liberace Avenue (adjacent to Commercial Center). Look for Liberace events to take place there in mid-May. He would have been 104 on May 16.
Huntridge Shopping Center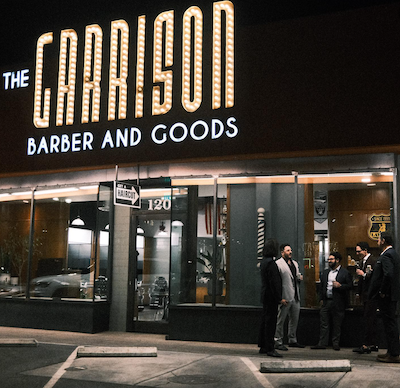 Real estate developers Dapper Companies continue to wave their visionary magic wand over this colorful shopping plaza where even the exteriors of the Savers thrift store and Circle K gas station/convenience store have smart modern, throwback design touches.
And I could stare all day long at the center's retro-inspired pylon sign unveiled in 2017. I'm now psyched for the imminent opening of Winnie & Ethel's Downtown Diner, the winner of Dapper's "The Great Las Vegas Coffee Shop Giveaway." And If my head wasn't shaved, I would probably frequent the uber-hip barbershop The Garrison.
Dapper plans to renovate the historic World War II-era venue, the Huntridge Theater, across the street. This architectural beauty was Vegas' first desegregated movie theater before becoming a music venue which shuttered in 2004.  J Dapper told Vegas' Review-Journal that the theatre, purchased for $4 million, is open to the public for tours with renovations to start in "about 12 months." On April 7, Dapper relit the theater's marquee and signed with an official ceremony. Whenever the Huntridge reopens, it won't be soon enough.
——–
Each month, Mitch Schneider explores some of Vegas' most unique offerings. Schneider has a decades-long publicity career working with some of the music industry's biggest stars and was a rock critic for Rolling Stone in the '70s. He moved to Vegas from LA with his wife during the pandemic in March 2020. He's loved the city ever since.
Each month, he explores Vegas' most popular and best-kept secrets. Look for "Living Las Vegas" on Casino.org. Click here to read previously busted editions. 
The post Living Las Vegas: Best of Vegas' Arts & Entertainment appeared first on Casino.org.