Macau casinos managed their recovery momentum in April, as gross gaming revenue (GGR) continued to rebound from the COVID-19 pandemic.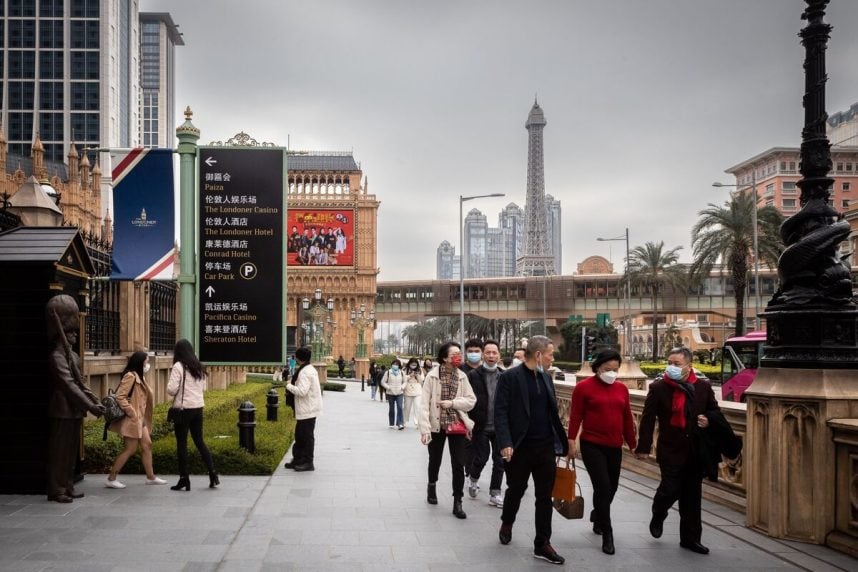 Macau's Gaming Inspection and Coordination Bureau today revealed that the region's six commercial casino operators won MOP14.72 billion (US$1.82 billion) in April 2023. That marks a 16% month-over-month improvement from March.
April 2023 was 450% richer for the casinos than April 2022 when GGR totaled just $332 million. April 2022 had been Macau's worst month in terms of gaming income since September 2020, as the enclave was reeling from its most significant coronavirus outbreak of the entire pandemic.
Macau's economy has been on a pandemic rebound since China President Xi Jinping in late November announced he would be ditching his "zero-COVID" policy that had been scorned by many foreign leaders and international cooperatives such as the World Health Organization.
Macau Bounce Back
Macau's gaming recovery comes about two years after other major casino markets, including Nevada and Las Vegas, experienced their own.
China's efforts to eliminate COVID-19 by isolating infected persons and locking down cities among even small outbreaks proved unsustainable. Amid public unrest and widespread protests, Xi finally agreed to lift "zero-COVID."
Health officials in December and early this year worried Xi's lockdowns over the past three years suppressed herd immunity and could result in mass COVID-19 causalities with "zero-COVID" being ditched. But after case counts soared in the immediate aftermath of "zero-COVID," much of China and its two SARs finally returned to a sense of normal. Macau is one of two Special Administrative Regions in China along with Hong Kong.
Macau in January was given the go-ahead to end its pandemic-related entry procedures. The enclave was opened to all of the mainland, plus Hong Kong and Taiwan, with no border rules in place such as testing or quarantine mandates. The Chinese casino hub is additionally open to foreigners, but they must still present a recently conducted negative COVID-19 test for entry.
Business in Macau has been good since January, and April only further improved on the gaming resurgence.
March 2023 marked Macau's best gaming month since January 2020, and April turned out to be even better. Through the first four months of 2023, GGR totaled $6.12 billion, up 141% year-over-year.
US Tensions
Macau is open to the world, but US officials continue to caution its citizens about venturing into the country and its casino enclave. US Department of State officials say China continues to subjectively enforce laws on foreigners that threaten travelers' safety.
"Reconsider travel to the People's Republic of China (PRC), including the Special Administrative Regions of Hong Kong and Macau, due to arbitrary enforcement of local laws," a China Travel Advisory issued by the US State Department reads.
US citizens traveling or residing in the PRC, including the Hong Kong SAR and the Macau SAR, may be detained without access to US consular services or information about their alleged crime. US citizens in the PRC may be subjected to prolonged interrogations and extended detention without due process of law," the notice added.
The US is a minor feeder market for Macau. In 2019, the US accounted for just 200,000 visitors to Macau of the record 39.4 million travelers who ventured into the enclave that year.
The post Macau Maintains Recovery Momentum, April Gaming Revenue Totals $1.82B appeared first on Casino.org.