The Macau Special Administrative Region (SAR) and Trip.com are expanding their government-sponsored marketing pact designed to lure in new international visitors to the Chinese casino enclave.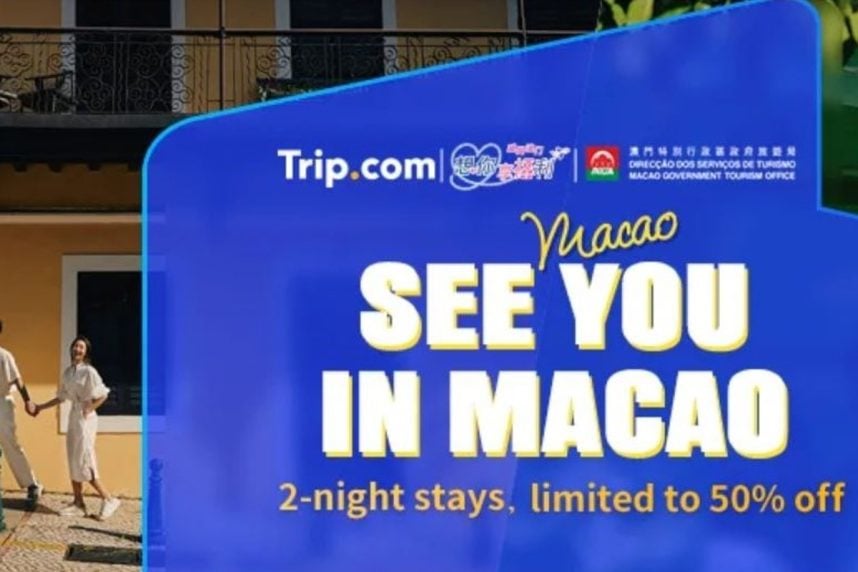 The Macau Government Tourism Office (MGTO) initiated its partnership with Trip.com in September 2020 in response to the COVID-19 pandemic. Trip.com is a privately held online travel booking agency that is China's equivalent of Expedia and Booking.com.
Trip.com was acquired by Ctrip.com International in October 2017. Ctrip International, which has since assumed the identity of Trip.com Group Limited, is headquartered in Shanghai.
The MGTO revealed Monday that the government tourism office is expanding its marketing partnership with Trip.com with additional incentives for foreign travelers who book their overnight accommodations in Macau through the online reservation service.
The MGTO says certain hotels in Macau, including some casino resorts, now qualify for special promotions for international guests. Effective immediately and running through June, Trip.com users who make a reservation in Macau for a minimum of two nights at select hotels can receive discounted rates with savings of up to SGD100 (US$75).
Government Incentives
The Trip.com promo is being funded by the MGTO. The government agency tasked with promoting Macau as a tourism destination has allocated MOP650 million (US$80.65 million) for the marketing scheme.
We will continue to collaborate with our trusted partners on marketing campaigns with the aim of empowering visitors with the most up-to-date travel information and exciting deals," said MGTO Director Maria Helena de Senna Fernandes.
Trip.com search results for international bookings display qualifying hotels in the incentive program with a "Macau Bonus" icon. The travel website is actively marketing the program in Singapore, South Korea, and Thailand, though the "Macau Bonus" scheme is available for all international travelers coming to Macau who use Trip.com.
Macau government officials say the Trip.com partnership dating back to 2020 has been a success. The MGTO's Trip.com incentives are part of Macau's "See You in Macau" campaign. The government initiative is to expand "sources of tourism" in the enclave.
Prior to the pandemic, Macau relied mostly on mainland China, Hong Kong, and Taiwan for its foreign visitation. Of the record 39 million people who traveled to Macau in 2019, nearly 29 million originated from mainland China and its claimed territories.
March Momentum
Macau has been on a roll in terms of both gaming revenue and visitation since Chinese President Xi Jinping lifted his "zero-COVID" policy late last year. With Macau's borders free of most pandemic-related entry rules and procedures, the MGTO says visitor counts were robust throughout the first quarter of 2023.
The tourism agency said on Monday that the March visitor tally climbed 23% year over year to just shy of two million guests. Total visitation for the first three months was 4.95 million, which represents a 164% surge from the same period in 2022.
Macau's casinos are more focused on patron quantity over quality these days after Xi's regime in Beijing forced VIP junket groups out in recent years. With far fewer high rollers in town, Macau's six gaming operators are catering to more of the mass market and will undergo nongaming investments totaling at least $13.5 billion through 2033.
The nongaming spending pledge was in exchange for new 10-year gaming permits that the Macau government approved last year.
The post Macau, Trip.com Expand Partnership to Bring More Visitors to Chinese Casino Enclave appeared first on Casino.org.