The 2023 men's college basketball tournament, March Madness, helped boost sports betting revenue in the state of Colorado in the month of March, according to a recent report from the Colorado Division of Gaming (CDG). The CDG recently reported $494.4 million in total sports bets were made in March.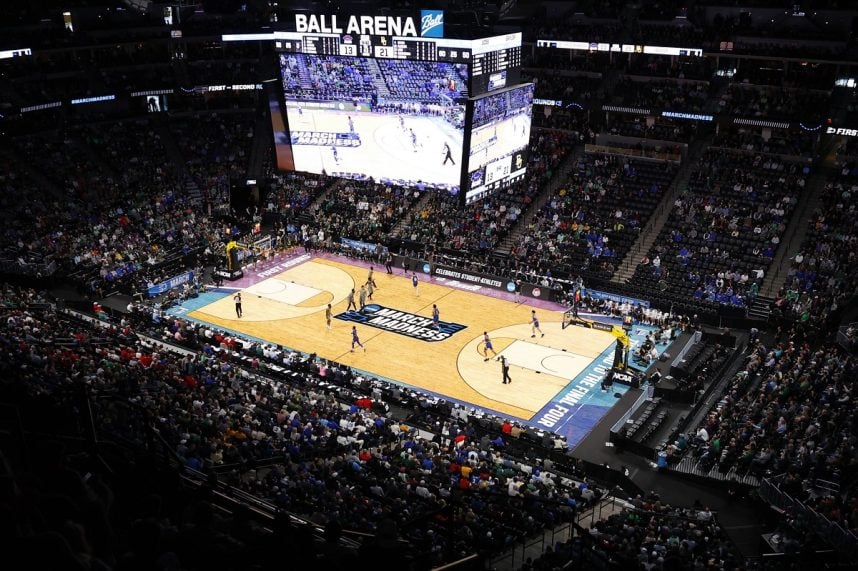 The 2023 figure is a 2.2% drop from last year's total of $505.6 million but reflects an increase of 16.3% from the month of February.
The Colorado Department of Revenue (CDR) also released its monthly report for March. Colorado posted a total gross gaming revenue (GGR) of $45.9 million. The GGR for March is a 103% increase from February and it's up 62.7% compared to March 2022.
The CDR reported total net sports betting proceeds for March were $35.4 million with a combined win percentage of 9.29%. Colorado will collect $3.1 million in state taxes after another successful month of sports betting.
$287M Bet on Hoops in Colorado
Bettors in Colorado love to bet on basketball, whether it's the NBA or college hoops. At least 58% of all sports bets in the month of March were on basketball. The NBA attracted 39% of all bets, and 19.1% of all wagers were made on college basketball.
In March, $287.3 million in wagers were made on both pro and collegiate basketball. Bettors fired away on $193 million in NBA wagers and bet $94.3 million on college basketball. Collegiate hoops saw a huge uptick due to the March Madness college basketball tournament for both men and women.
Black Hawk and Cripple Creek retail sportsbooks accepted $1.2 million in NBA bets and $1.98 million in college basketball wagers. Online sportsbooks and mobile apps attracted $191.8 million in NBA wagers and $92.3 million in bets on college basketball.
Sportsbooks in Colorado netted $4.3 million in profits in March. They took advantage of a tumultuous college basketball season when many top seeds were toppled early in the March Madness tournament. The University of Connecticut won the men's tournament as the #4 seed after they defeated the #5 San Diego State Aztecs in the championship game.
LSU won the women's March Madness tournament as the #3 seed when they picked off #2 Iowa, who upset undefeated and top-ranked South Carolina in the semifinals.
Parlays and other combined sports wagers comprised 18.3% of all Colorado sports wagers in March. Ice hockey and tennis combined for 10.2% of total sports bets and nearly $50.4 million in wagers. Soccer attracted 3.9% of all bets and $19.4 million from bettors.
The new MLB season began in the last week of March and attributed to just 1.7% of all bets. More than $8.18 million was wagered on baseball.
Bright Future for Nugs, Broncos, and Buffs
It's an ideal time if you love sports betting and live in Colorado. Winning local teams often attract more casual bettors compared to seasons when hometown teams are at the bottom of the standings. NBA and NHL fans in Denver and the state of Colorado had lots to cheer about. The Colorado Avalanche won the NHL's Stanley Cup last season, and the Nuggets emerged as the top team in the NBA's Western Conference this season.
The Nuggets secured the #1 seed in the Western Conference playoffs and won their opening-round series against the Minnesota Timberwolves. They meet the #4 Phoenix Suns in the conference semifinals and jumped out to a 1-0 series lead after winning Game 1 in Denver.
NFL and college football fans in the state of Colorado have a glimmer of hope after a disappointing 2022 season for both the Denver Broncos and Colorado Buffaloes.
Deion Sanders recently joined the Colorado Buffaloes as their new head football coach. Sanders, who played both in the NFL and MLB, turned around Jackson State's program after leading them to a 27-6 record over the last three seasons. Colorado alumni are banking on similar success from Sanders, who will try to restore a winning culture in Boulder.
The Broncos recently hired a new head coach when they tapped Sean Payton to replace Nathaniel Hackett after a one-and-done season. Payton led the 2009 New Orleans Saints to a victory in Super Bowl XLIV, and Broncos fans hope he can secure Denver a fourth championship.
The post March Madness Boosts Colorado Sports Betting Revenue to Nearly $500M appeared first on Casino.org.