Three Chinese nationals who applied superglue to the palms of their hands so they could steal chips from Singapore casinos have been sent to prison by a court in the Southeast Asia city-state.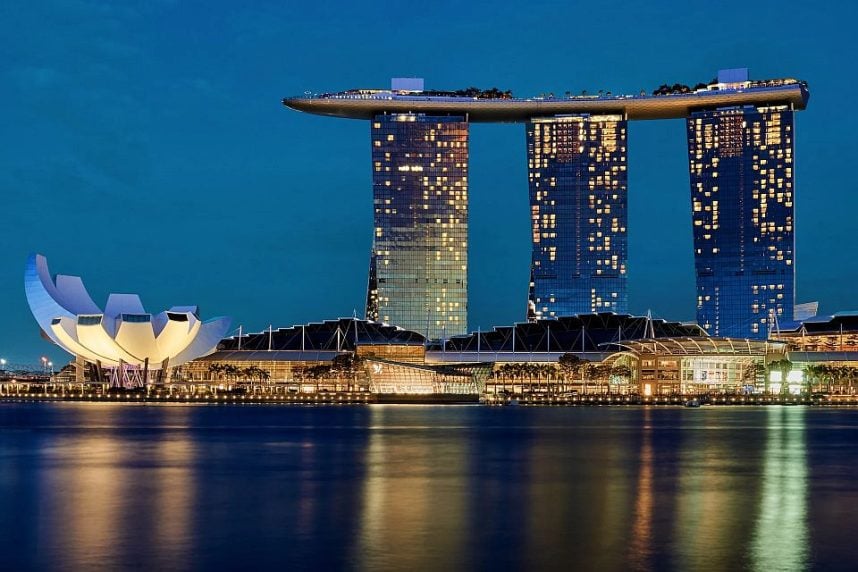 Huang Chunsheng, 50, Zheng Jiansheng, 64, and Jiang Renjing, 55, each pleaded guilty to one count of conspiring to steal while Zheng also pleaded guilty to two other charges of cheating while gambling under the country's Casino Control Act.
The court heard the trio traveled from China to Singapore on March 6 for a gambling vacation on social visit visas that allowed them to stay for two weeks. They had no return tickets, and Huang had concocted a plan to steal chips from other patrons should they lose money. Before departing China, he purchased two bottles of strong glue, which he disguised as eyedrops.
Huang's accomplice, Zheng, had an eye condition and needed to take drops regularly, which provided the perfect cover story should the small bottles of glue be queried by airport security.
Sticky Palms
After losing on their first day at the Marina Bay Sands, Huang revealed the plan to his friends in their hotel room on the second day of the trip. It involved squeezing a small dollop of glue onto the palm of the hand, which could then be passed quickly over a casino chip so that the chip stuck to the glue. The chip could then be palmed off the table surreptitiously.
His accomplices practiced the technique with bottle caps and casino chips, according to prosecutors.
Over the next five days, the technique worked well for the group, which managed to palm S$1,575 (US$1,180) worth of casino chips. After arriving at the Sands, they would split up, targeting players with large stacks of chips who might not notice the odd one disappearing.
Coming Unstuck
On March 11, Huang was caught red-handed when a suspicious gambler grabbed at his hand and turned it over to reveal a stolen chip.
Huang fled the casino. Realizing the game was up at the Sands, the group made its way to Singapore's only other casino, Resorts World Sentosa, a short drive away. They were arrested as they entered the building.
Prosecutors noted the offenses were premeditated and involved a high level of sophistication. In their defense, the trio said they were poorly educated men who had never traveled out of China before and had never previously been in trouble with the law.
Huang, the admitted mastermind of the plot, was sentenced to eight months in prison while Jiang received seven months. Zheng, who is blind in one eye and self-administered eyedrops throughout the hearing, was the one who stole the most. He was sentenced to 10 months behind bars.
The post Marina Bay Sands Gamblers Sentenced for Theft After Supergluing Chips to Hands appeared first on Casino.org.