The Nevada Gaming Control Board (NGCB) has recommended the approval of a gaming license for a no-frills "pop-up" casino that will exist for eight hours in a tent on a street corner a stone's throw from the Las Vegas Convention Center.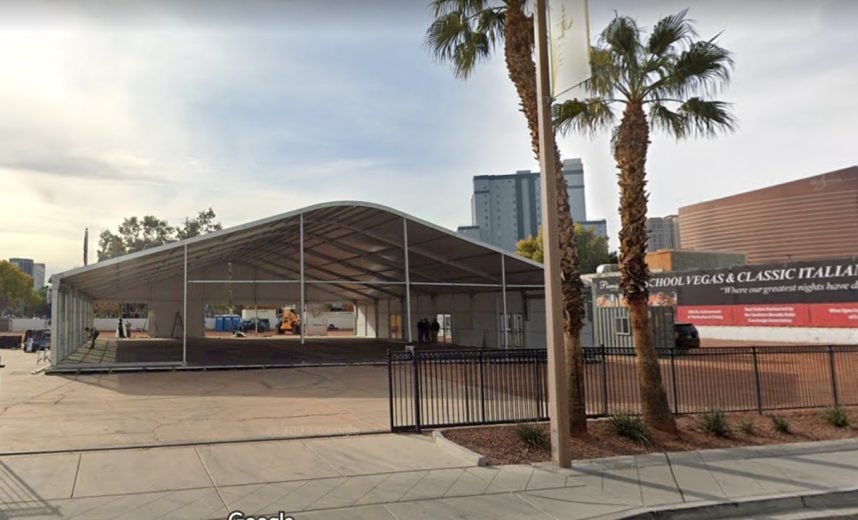 The tent in question will contain 16 slot machines and will be operated by Century Gaming Technologies subsidiary United Coin Machine (UCM) on the corner of Paradise and Convention Center Drive, The Las Vegas Review-Journal reports.
It will exist, briefly, solely for the purpose of preserving a grandfathered gaming license acquired by Marriott International when it bought the 1.35-acre plot on which the Beach Nightclub once stood.
Grandfathered License
Clark County laws state that a licensee must offer commercial gaming for at least eight hours at least once every 18 months in order to maintain their license. Sixteen slots are the minimum permitted under these rules.
UCM is a company that specializes in organizing pop-up casinos for grandfathered gaming licenses.
The Beach Nightclub closed in 2006 and the plot was acquired by Marriott that same year. It has stood vacant ever since.
Marriott attorney Dennis Neilander told the NGCB that the company's plans to develop the property were stalled first by the Great Recession and then by the COVID-19 pandemic. He said Marriott wants to develop it into a resort or lease it to a developer.
Resort Plan
Marriot bought up a lot of the land in that part of Las Vegas around the time of The Beach purchase. Today, it has five hotel properties nearby, collectively holding around 1,000 guest rooms. Through the Las Vegas Marriott, the Residence Inn, and the Courtyard hotels, the company pretty much owns the whole block.
Neilander said there is a plan to consolidate these properties into one resort across 16 acres, which would include the Beach site. But if the gaming license were to lapse, the land would lose value. He acknowledged the process "couldn't go on forever," the LVRJ reported.
Since Marriott purchased the land, the Las Vegas Convention and Visitors Authority (LVCVA) has completed the Convention Center West Hall and has begun a $600 million renovation of the original Convention Center.
The Nevada Gaming Commission, which rarely deviates from an NGCB recommendation, will give final consideration to the pop-up casino license at its May 18 meeting.
The post Nevada Regulators Approve Marriott Pop-Up Casino in Tent appeared first on Casino.org.