Opening a beer bottle on the Las Vegas Strip could get you banned from the Strip for a year. At least technically it could, according to an ordinance proposed at last week's Clark County Commission meeting.
A little-known Clark County law currently allows judges to ban the drug dealers and prostitutes they convict on the Las Vegas Strip from setting foot on the Strip for up to a year. This new proposal seeks to expand that late-'90s ordinance to all criminals. Violating a previous ban would be a misdemeanor punishable by up to six months in prison and/or a $1,000 fine.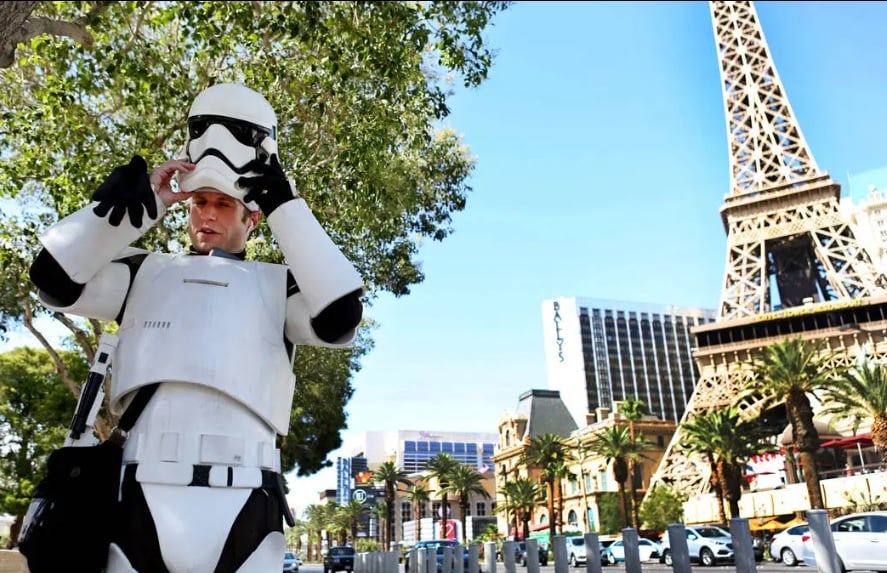 In addition to carrying an open glass container of alcohol, other activities currently considered illegal while walking Las Vegas Boulevard from Russell Road to Sahara Avenue include smoking marijuana — recreational or medical — feeding pigeons and even (?!*&@!) cursing. (Read 15 of the Weirdest Laws in Las Vegas.)
Street Performers, Homeless Would Feel Ban First
However, what troubles the American Civil Liberties Union (ACLU) is not the potential for visitors to be banned for violating rarely enforced laws. It's the disproportionate effect the proposed ordinance would have on Las Vegas' most vulnerable population. An ACLU spokesperson told KVVU-TV that it would encourage businesses to report all homeless people and street performers, hoping to either get them banned or locked up for violating previous bans.
The Clark County law governing the Strip forbids "sleeping upon the public sidewalk" and "obstructing, delaying, hindering, blocking hampering or interfering with pedestrian passage." Both laws are used to remove homeless people and street performers. (The Strip lies not in the City of Las Vegas, but the unincorporated Clark County town of Paradise, Nev.)
The new "stay out" orders would apply to anyone convicted on the Strip "as a condition of a suspended sentence or deferred adjudication of any criminal offense." The ordinance was introduced by Clark County Commissioner Jim Gordon in response to a 15.8 percent jump in total crime last year on the Strip.
Public Reaction Mixed
Reaction to the ordinance seems evenly split, at least judging from comments on the news story posted by KVVU's YouTube channel. YouTube user Sparkytuttle2 wrote: "Let the cops watch for gangs, violent offenders … and not worry about how shook up the low level offender is going to be at a misdemeanor." Conversely, YouTube user Keith nol3 wrote: "Don't break the law and this won't be a problem for you."
A public hearing for the ordinance revision is set for 10 a.m. Tuesday, August 2 at the Clark County Government Center.
Pedestrian Bridge Ban Tabled
Another ordinance, proposed in May by the Clark County Commissioners, would have banned panhandlers, vendors, musicians and anyone else from loitering on the Strip's pedestrian bridges, treating the structures as crosswalks. Las Vegas police pushed for the ordinance after a stabbing on a pedestrian bridge killed an off-duty officer in March. However, after closed-door meetings with ACLU attorneys, that ordinance was tabled for the foreseeable future.
The post New Law Would Allow Judges to Ban All Criminals From Las Vegas Strip appeared first on Casino.org.