WarHorse Casino Omaha at Horsemen's Park officially broke ground on the roughly $300 million casino and entertainment destination last July. Since then, developers say it's been a "frustrating" process, with laborers still focused on updating the property's sewer and water systems and conducting other site prep work.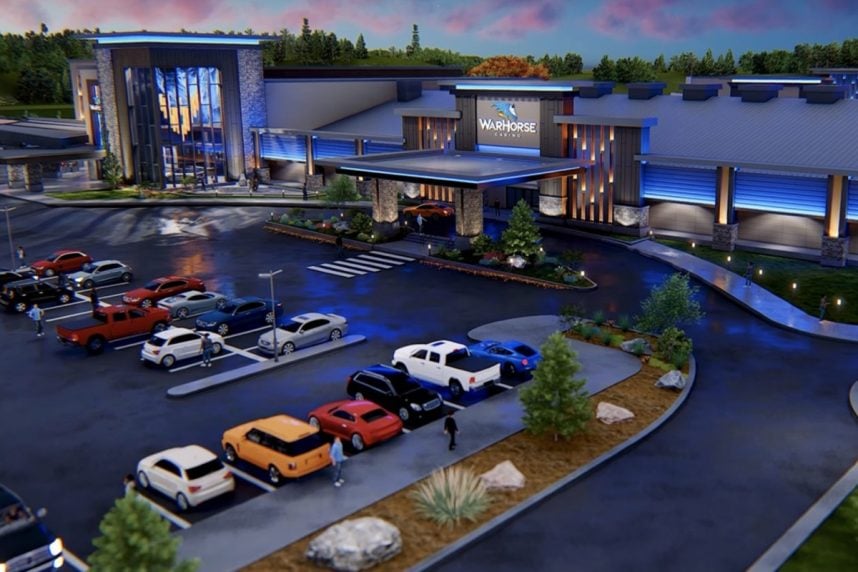 WarHorse Gaming, a subsidiary of Ho-Chunk, Inc., which is controlled by the Winnebago Tribe of Nebraska, initially targeted an August 2023 opening for its Omaha casino. Now, officials with the company say a June or July 2024 commencement is a safer bet.
Unfortunately, we started the process at about the same time the economy tanked and interest rates went through the roof," Lynne McNally, CEO of the Nebraska Horsemen's Benevolent and Protective Association (NHBPA), told ABC7 in Omaha. "That has been difficult to navigate, but we've done that effectively."
In 2020, NHBPA partnered with WarHorse in anticipation of Nebraskans voting in support of allowing the state's licensed horse race tracks to become full-fledged casinos with slots, table games, and sports betting. Nebraskans easily passed the gaming referendum during the November 2020 presidential election with 65% support.
The Winnebago Tribe owns and operates the WinnaVegas Casino & Resort in Sloan, Iowa.
Keeping Money in Nebraska
WarHorse Omaha will result in a casino and entertainment complex at the race track. The casino will be situated with around 1,300 slot machines, 20 table games, and a sportsbook. A variety of dining options are also in the works.
WarHorse Gaming is behind two forthcoming permanent casinos in Nebraska. Along with its Omaha development, WarHorse is spending another $300 million in Lincoln to overhaul the Lincoln Race Course into a casino and resort destination.
The successful 2020 state constitutional amendment came after a political campaign touting the economic benefits that the casinos would provide resonated with voters. The "Keep the Money in Nebraska" initiative, which led the referendum support and was largely bankrolled by the Winnebago Tribe, told Nebraskans that state residents spend $400 million a year at out-of-state casinos, most often at casinos in Council Bluffs, Iowa.
"Nebraskans are subsidizing Iowa tax relief," the Omaha World-Herald Editorial Board concluded in its urging of voters to pass the gaming referendum.
McNally, whose Horsemen additionally plan to renovate the association's race course in South Sioux City into a casino at a later date, says WarHorse will soon deliver on its pledge to keep gaming revenue in Nebraska.
"We're expecting to fulfill our promise of keeping the money in Nebraska," McNally said. "We're hoping those Nebraskans who've been driving across the river to Council Bluffs will stay in Omaha and spend their money in Omaha, keeping their tax revenue in Omaha and in the state."
Lincoln Casino Up and Running
WarHorse Gaming opened the first commercial casino in Nebraska history when it debuted a temporary gaming facility inside the Lincoln Race Course grandstand last September. The provisional gaming space has about 430 slots and simulcast racing.
The forthcoming permanent WarHorse Casino Lincoln resort will include a 196-room hotel, convention and meeting facilities, multiple restaurants, and a casino floor with 1,100 slots and nearly 30 table games.
Along with WarHorse's two in-development casinos, two additional casinos are being built in the Cornhusker State. Harrah's Nebraska is being built in Columbus, and Elite Casino Resorts is redeveloping Fonner Park into a gaming property to be called Grand Island.
The post WarHorse Casino Omaha at Horsemen's Park in Nebraska Announces Opening Timeline appeared first on Casino.org.